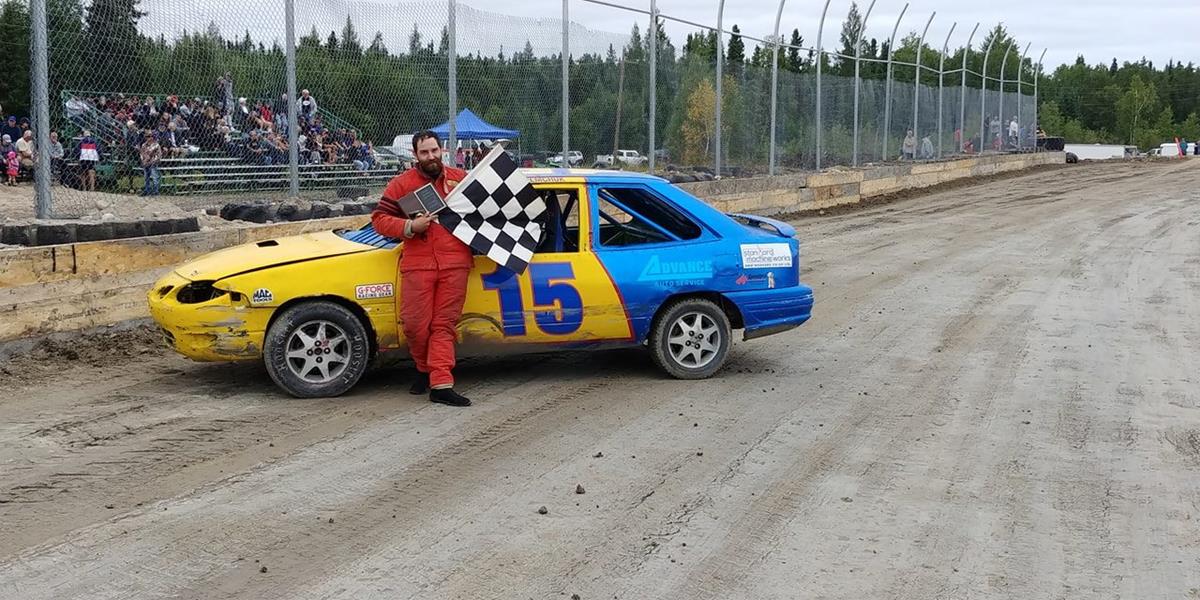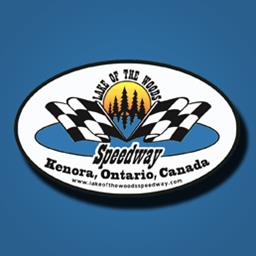 8/7/2018
Lake of the Woods Speedway
---
Over 800 People Attend Lake of the Woods Speedway First Ever Event
An almost two hour rain delay didn't stop fans and drivers attending the first ever races at Lake of the Woods Speedway on Sunday, August 5th.
Despite the rain, the first set of heat races went green at 6:18pm to an over max bleacher capacity crowd on hand. With thirty six cars in attendance (8 Pure Stocks, 8 4-Cylinders, and 20 WISSOTA Midwest Modifieds), fans were able to enjoy some great racing.
In the Pure Stocks, Sioux Lookout's very own Patrick Davis took his first ever heat win over the hard charging Derek Pollock. In the 4-Cylinders, Ryan Higgins started in the fourth position and took the win. In Heat #1 of the WISSOTA Midwest Modifieds, Tom Morriseau went from seventh place for the win over Tanner Williamson with Austin Hunter and Dayton Brady winning the second and third heats.
After a short intermission, the Pure Stocks lined up for their feature. It was a three way battle between George Darling, Patrick Davis, and veteran Derek Pollock with some great three wide racing. Unfortunately on lap nine, the heavens opened again and the races were postponed to be completed the next day.
On Monday, only two Pure Stocks were able to return, with Derek Pollock defeating Pat Davis for the first feature win at the Speedway. Pollock also announced his plans for retirement once the car is sold.
One of the best races of the weekend was in the 4-Cylinders. While only four of the eight cars made it back to start their feature, Mike Demchuk and Alexander Farr swapped for the lead a few times putting on a great show for the fans. However, Demchuk would prove victorious.
In the WISSOTA Midwest Modifieds, ten cars were able to return on Monday with Austin Hunter starting on the pole and not looking back. Taking the first ever WISSOTA sanctioned racing event at Lake of the Woods Speedway.
Hard Charger Nick Audette finished a strong second place and Dayton Brady finished third.
Thank you to all the great Fans, Drivers, and Volunteers that braved the rain and delay on Sunday and thank you so much for everyone coming back on Monday.
The next Race Date is planned for Sunday, September 9 with Racing at 4pm.
Results
WISSOTA Midwest Modifieds
Feature - Austin Hunter, Nick Audette, Dayton Brady, Tom Morriseau, Ethan Friesen, Darren McArthur, Reuben Thomas, Keelan Hall, Ritch Lapointe, John Vahovick
Heat #1 - Morriseau, Williamson, Hall, Gaudet, Overwater, Henry, Vahovick
Heat #2 - Hunter, Friesen, Thomas, Audette, Rehill, Wilson, McArthur
Heat #3 - Brady, Leek, Lapointe, Davis, Luschinski, Kozie
Pure Stocks
Feature - Derek Pollock, Patrick Davis, George Darling, Bill Messier, Andrew Thomas, Mike Pinheiro, Michael Copp
Heat - Davis, Pollock, Darling, Messier, Thomas, Pinheiro, Copp
4-Cylinders
Feature - Mike Demchuk, Alexander Farr, Wanda Marshall, Mulholland
Heat - Higgins, Audette, Rehill, Demchuk, Farr, Capri, Mulholland
Article Media
Back to News