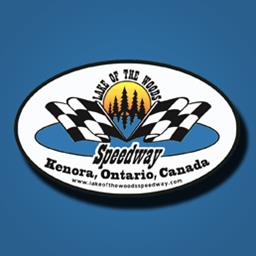 9/10/2018
Lake of the Woods Speedway
---
Dayton Brady Clean Sweeps WISSOTA Midwest Modifieds, Demchuk and Pollock Repeat
Lake of the Woods Speedway Hosted its second event of the year as the Dinner Jacket Classic Series Night #1 got underway.
A total of twenty cars in the three classes of Pure Stocks, 4-Cylinders, and WISSOTA Midwest Modifieds took to the track with another excellent crowd watching on.
First up were the four-cylinders with a total of five cars starting out. Right off the top, Zach Demers, Denis Seguin and Mike Demchuk made it almost three wide. The race was a fast paced affair with Seguin taking the win. In the feature, Seguin took the lead for the first several laps, but Opener winner, Mike Demchuk had other plans. As he gained on the leader lap after lap, Seguin pushed up trying to get around a lap car, opening up the bottom of the track for Demchuk to get by. After the move, Demchuk never looked back and claimed back to back feature wins at the track.
In the Pure Stocks, Patrick Davis and Derek Pollock rekindled their battles on the track as they both jostled for position in the heat race. Pollock would be the eventually winner. In the feature, Davis was dominating the show but caught up to a lap car. Trying to protect the bottom, but needing to get around the lap car, Davis eventually made the move as Pollock blew around the outside. It was a three car sandwich, with Davis stuck in the middle. Contact was made between the two leaders. Pollock spun, bringing out the caution and Davis being sent to the back. On the ensuing restart, Pollock had his hands full again as Les McRae made it up to second. Coming to the checkered flag, Pollock was able to cut underneath the lap car of Bill Messier to outpace McRae to the line claiming a clean sweep.
In the WISSOTA Midwest Modifieds, Ritch Lapointe and Jason Somack started on the front row. Christopher Leek took the lead, but was eventually passed by Dayton Brady who took the win. In the feature, Dayton Brady started up front and never looked back, also claiming a clean sweep. Leek moved from fifth to second and Somack rounded out the top three.
Results Summary
WISSOTA Midwest Modifieds
Feature - Dayton Brady, Christopher Leek, Jason Somack, Ritch Lapointe, Keelan Hall, John Vahovick, Tim Wiebe, Brendan Morand
Heat - Brady, Leek, Somack, Lapointe, Hall, Vahovick, Wiebe
Pure Stocks
Feature - Derek Pollock, Les McRae, Michael Copp, Patrick Davis, Wes Morriseau, Doug Darendorf, Bill Messier
Heat - Pollock, Davis, McRae, Darendorf, Morriseau, Messier, Copp
4-Cylinders
Feature - Mike Demchuk, Denis Seguin, Zach Demers, Kamea Mulholland, Wendy Capri
Heat - Demchuk, Seguin, Demers, Capri, Mulholland
---
Article Credit: Photos by Kaz
Article Media
Back to News