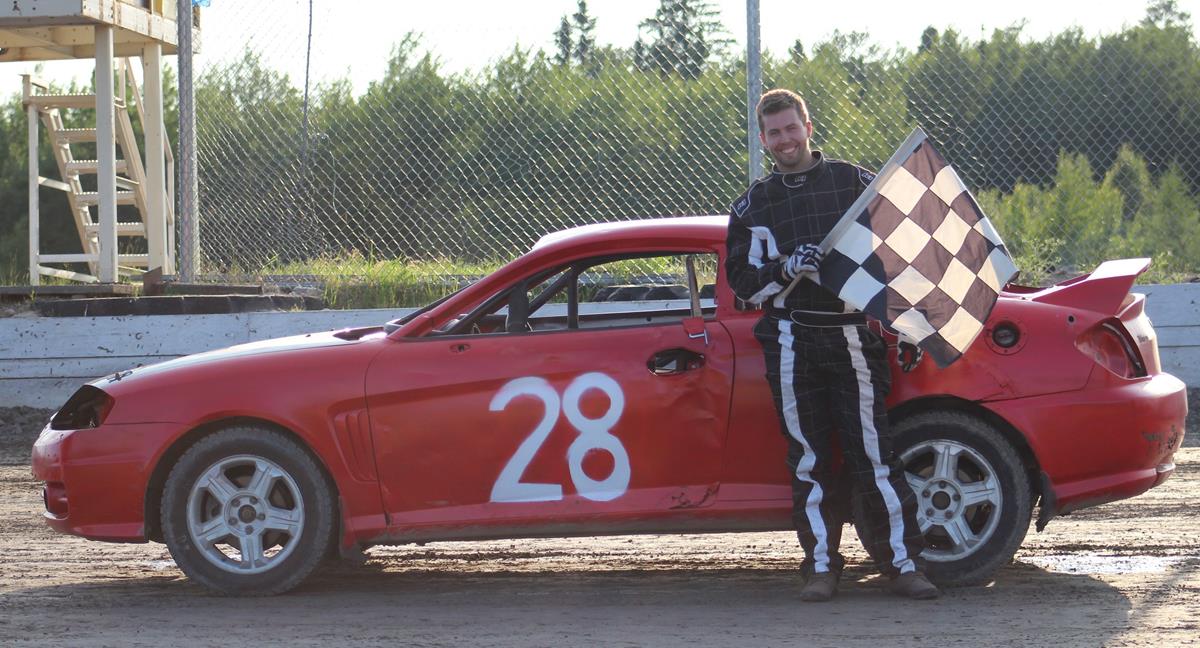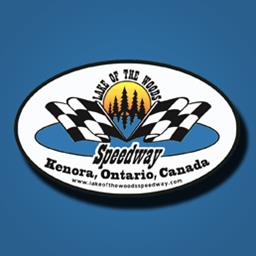 7/11/2021
Lake of the Woods Speedway
---
Mcgowen Wins First Ever Feature! Hunter, Thomas, and Farr Win Main Events
It was a beautiful day for Stock Car Racing at the Lake of the Woods Speedway.
First up was the 4-Cylinder Makeup feature from July 4. #28 Brodie Mcgowen took the early lead, but #25 Alexander Farr slowly reeled him in lap after lap. Coming to the white flag, Farr was right on his tail and even gave him a tap on the back bumper coming out of turn 2. However, it wasn't enough and Mcgowen would go on to win his first ever feature race.
In the WISSOTA Pure Stocks, #24 Chris Thomas and Michael Copp battled it out door to door, lap after lap, trying every which way to gain any sort of advantage. Both cars led at several different points in the race. Even after a caution due to Steve Redman's engine expiring, and Bryson McDonald having a tire explode, the two leaders never gave each other an inch. In the end, Thomas took the victory with Copp doing everything he could, but ran out of room and spun out trying to take the win...
It was an epic battle early on in the 4-Cylinders feature. It was four wide coming into turn 1 and 2. It was still three wide for the next lap or so.... Eventually, it was Mcgowen and Farr once again at the front. Farr went high, Mcgowen stayed his ground, but after about a half dozen laps of side by side, Farr took his car past Mcgowen coming out of the second corner. Everntually, Mcgowen overheated and had to pull off. Jake Mazur finished a distant second to Farr's first feature win of the season.
The Q104 WISSOTA Midwest Modifieds had the most epic battle ever seen at the speedway. Tanner Williamson took a commanding early leas, but Brandon Rehill eventually gained ground and the two of them raced side by side through the early portions of the race. Eventually, #44 Austin Hunter, who blew a tire in the heat race and was forced to start near the back, had made it up to third place and was right behind the leaders.
It didn't take long for Hunter to find a place on the outside making it a three wide battle! Williamson was unable to decide whether to slide up to cover the top to hold back Hunter, or cover the bottom to hold back Rehill. In the end, both drivers got by and then were in their own battle for the lead.
On the last lap, Hunter had what looked like a car length lead.... however, Rehill made a dash to the inside and made it a photo finish at the checkered.
Congrats to Austin Hunter, Chris Thomas, Alexander Farr, and Brodie Mcgowen for their amazing feature wins!
Racing Resumes this Friday, July 16, with Hot Laps at 7:00pm and Racing at 7:20pm with the Makeup Feature for WISSOTA Pure Stocks, then the Q104 WISSOTA Midwest Modifieds, WISSOTA Pure Stocks and 4-Cylinders get back at it again!
Ticket Reservations will be available starting at 9am on Monday, July 12. You can book your tickets by calling 807-467-1791 or email lowspeedwayproject@gmail.com
---
Article Credit: Photo by Chantelle Audette
Article Media
Back to News