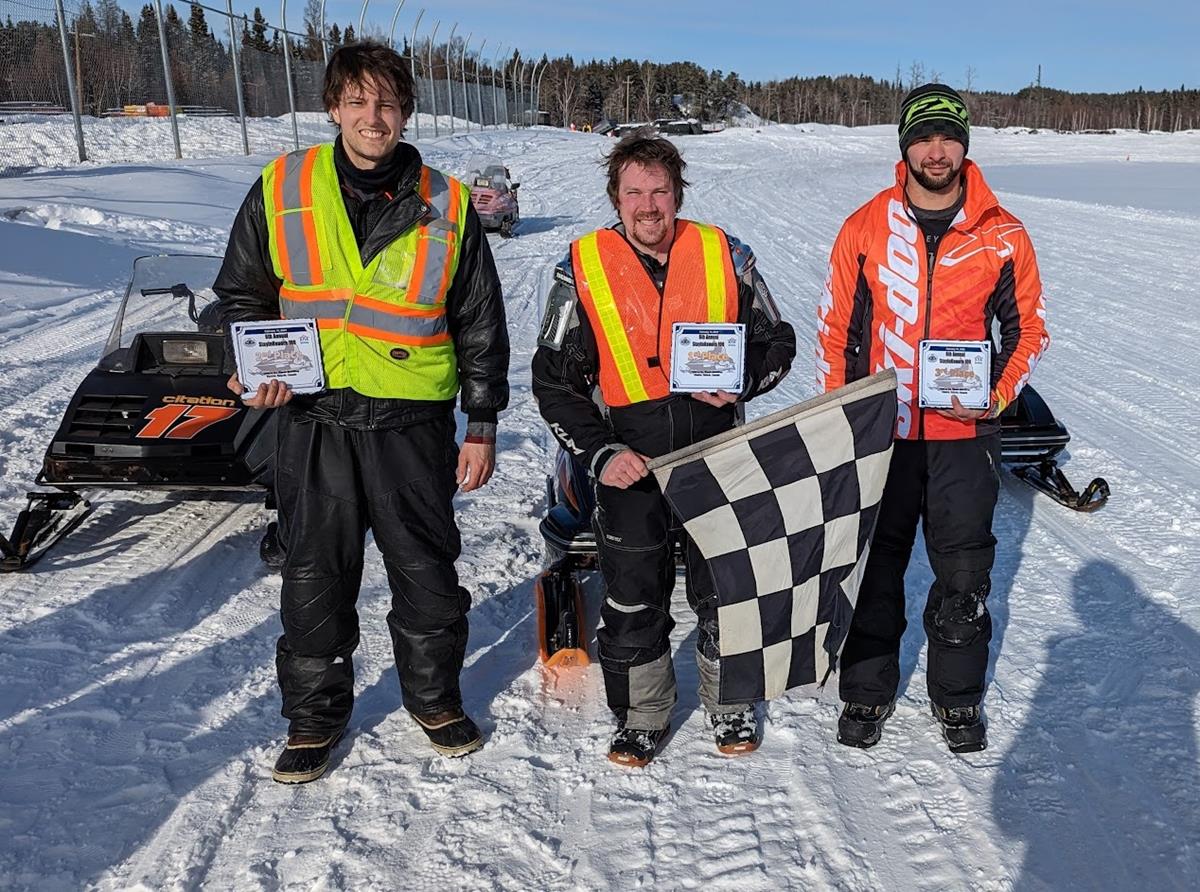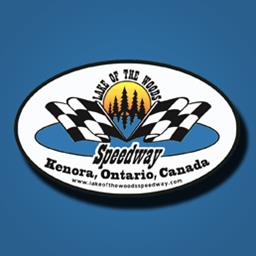 2/20/2023
Lake of the Woods Speedway
---
Smith Squeezes Out 4th Win in a Row, Dubois Claims Win in Twin Shootout
It was a beautiful Sunny Sunday for the 6th Annual StayInKenora100 and Twin Shootout.
A record number of sleds registered in both classes, although some were unable to make it onto the track due to mechanical issues leading up to the event.
In the Twin Shootout Heat 1 Danny Leonard took the lead and held it strongly again Lorne Dubois. Heat 2 was full of excitement as Jeff Driedger and Taylor Goodfellow had an epic battle early on. Then, for the first time ever, we had a nasty rollover in turn 3/4 with Dache Dimit, who was okay after the incident.
Driedger would win after the ensuring restart as Goodfellow would drop a cylinder.
In the Feature, it was Leonard and Dubois fighting for the lead throughout much of the first half.
Dimit returned in the feature with the front of the hood wrapped in electrical tape but was forced to retire early due to engine problems.
Dustin Alcock fell of his sled a couple times throughout the afternoon and also retired early from the race.
Don Rogers fought with overheating issues throughout the 20 laps, but was able to finish third. Dreidger would round out the top 4 finishers.
By the last 5 laps, Dubois had a sizeable enough lead over Leonard to claim his second twin shootout win.
The StayInKenora100 had first time competitor Ashton Bell on the pole with Rob Jones on the outside. Unfortunately, Jones had to be pulled off the track before the start due to a spark plug issue (He would return to the track a few laps later).
Veteran Don Rogers took the early lead with Dylan Smith second, and Christopher Leek third. By lap four, Leek had passed Smith and eventually would get by Rogers on lap 7.
It was Leek having the lead until lap 26 where Davy Doer would make a push for the lead, fist pumping the air as he went by the flagstand. Unfortunately, it was short lived for Doer who eventually relinquished the lead back to Leek on lap 29.
There were multiple battles throughout the top five with Travis McDonald, Tim Robinson, Smith, Leek, Doer, and Rogers swapping positions throughout the first half of the 100 lap event.
Eventually, Doer would claim top spot again on lap 38 by making a move on the highside of turn 3 and 4, and he would take lap 50 for the bonus. Doer would then dominate until lap 65 where Leek would take the lead once again.
Meanwhile, Robinson, who had been lurking in the shadows around 4th to 5th place throughout the race, had made his way up to second spot and took Leek by surprise by taking the lead on lap 74 after a caution. Leek would narrowly beat him on lap 75, but Robinson would take it back on lap 76, then Leek again from laps 77-79.
After another caution, Robinson would take first position from lap 80 to 88...
Not to be outdone by the competition, Smith had paced himself well throughout the race and was in a position to challenge top spot. He would take the lead from lap 89 to 92, but Robinson was right there beside him.
The two swapped for position for the next couple laps, but on lap 98, while looking like he would claim the win, DISASTER for Robinson! He fell off his sled, allowing Smith to sneak by.
Leek was also able to pass Robinson and was gaining on Smith coming to the checkered flag.
But, it wouldn't be enough, leaving Leek exactly one sled length behind Smith for the second year in a row.
Congratulations to Dylan Smith on his 4th Win in a row for the StayInKenora100!
Full Results - http://www.lakeofthewoodsspeedway.com/schedules/event/438594
Thank You to Kenora Hospitality Alliance (www.stayinkenora.com) and Bennetts Marine for their amazing sponsorship of the event!
Thank You to Mike, Dylan, Albert and Brandon for getting the track ready for the event.
Thank You to all our dedicated Volunteers and Safety Crew!
Thank You to all our giveaway sponsors!
Thank You to Pioneer Construction for plowing out the facility!
Check out our 2023 Stock Car Schedule! First event is a Practice on Saturday, May 13 from Noon to 3:30pm. Spectators are free.
Article Media
Back to News