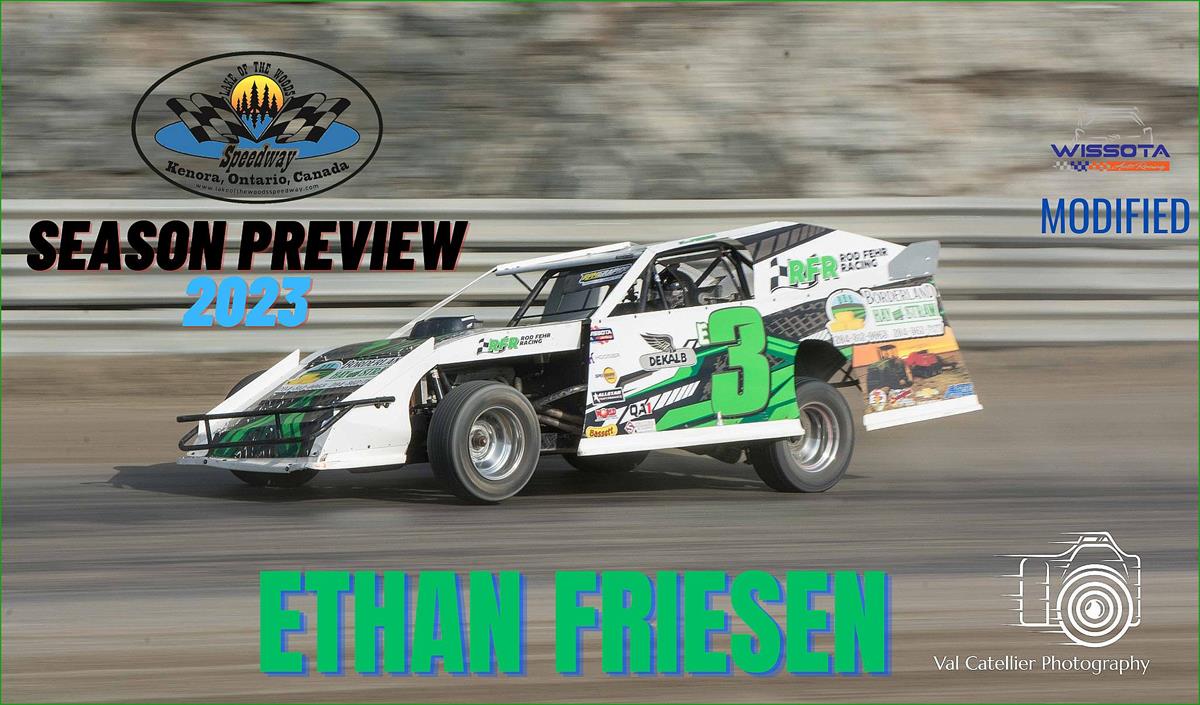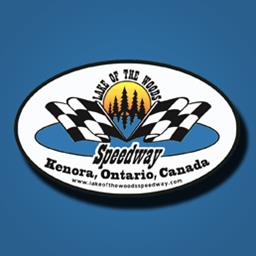 3/17/2023
Lake of the Woods Speedway
---
2023 Season Preview: #E3 Ethan Friesen - WISSOTA Modified
2023 Lake of the Woods Speedway Season Preview and Profile
#E3
Ethan Friesen
WISSOTA Modifieds
Hometown: Landmark, MB
Ethan Friesen is no stranger to racing at Lake of the Woods Speedway. In fact, his first racing event was on the Grand Season Opener on August 5, 2018 in the WISSOTA Midwest Modifieds. He finished second in the heat race after starting fifth and claimed fifth place in the feature event.
Since then, Friesen has moved into the WISSOTA Modified class but still attends the special events that LOTW Speedway hosts.
With ten (10) years of experience in the three classes he has competed in, Friesen has quite the list of accolades including ten (10) feature wins in the Pure Stocks, one win in the WISSOTA Midwest Modifieds, and he also won the 2022 WISSOTA Modifieds Rookie of the Year at Victory Lane Speedway.
Friesen has a wide range of pit crew including his father John, his wife Megan, daughter Ava (AKA The Cheerleader), and his friends of Danika, Matt and Tyler.
Rod Fehr Racing, Borderland Hay and Straw, Dekalb are his sponsors.
Friesen is a second generation racer, after his Dad used to race when Ethan was younger.
"My Dad raced for about sixteen (16) years on and off starting in 1994. Having the chance to watch him when I could, was some of the best parts of my childhood. I always dreamt of racing. I loved sitting in my Dad's race car while it was parked in the shop, sometimes to take a nap."
In 2013, Friesen was able to start racing even though his Dad was getting out of the driver seat. However, the support was still there. He chose car number 3 as his father also ran that number.
"While number 3 had a level of connection to Dale Earnhardt Sr., my favourite driver was my Dad. I was lucky enough to even race again him at the 2015 Al Delaine Memorial Races in Winnipeg. We ran side by side for a couple laps and he finished third with myself winning the race by a nose!"
Friesen switched to the number E3 when he moved up to WISSOTA Midwest Modifieds and has enjoyed making it his own.
In 2023, he hopes to take home the Dinner Jacket Classic Series Championship (and the Jacket that goes with it) during the August long weekend. He also aspires to win the 2023 track championship at Victory Lane Speedway and possibly attend other events such as the John Seitz / Al Delaine Memorial at River Cities Speedway in Grand Forks, ND.
Promoter's Thoughts – "Ethan has been a friendly and approachable individual with a committed passion to continually enhance his skillset. He has shown tremendous growth on the track in the WISSOTA Modifieds and will continue to improve his standing."
Can't wait to see you turning laps again in 2023, Ethan!
---
Article Credit: Val Catellier Photography
Back to News